By Edward Hill – Goldstream News Gazette
Published: April 21, 2011 11:00 AM
Updated: April 21, 2011 11:25 AM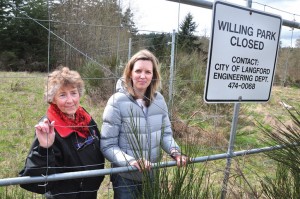 Christina Willing opens the tall wire gate to what was once a community garden, now overgrown with broom and largely forgotten. She scowls at a sign that reads "Willing Park Closed."
About 10 years ago the garden was abandoned, although the tall deer fencing and a broken down shed remains. But with homes and townhouses cropping up next door in Valley View Estates, Willing wants the community to get better use from the park that bears her family name.
"We already have a fenced in area for a garden. The rest is a natural area enjoyed by animals and birds," says Willing, as she walks through a pasture that was once part of her family's dairy farm.

"I'd like to see a garden and community trails. It's a place people can go as a family and have a picnic in a natural area. There are all kinds of possibilities."
More than 12 years ago Willing and her late husband donated about five acres to Langford, and the City purchased the rest to create 14-acre Willing Park, a public greenspace that, despite the initial stab at gardening, has remained idle and little known.
Willing, 85, has walked the property almost every day since settling on the farm in 1945. A stream cuts the rough land under a canopy of alder and cedar trees. It remains home to chirping birds and deer, and in earlier days, the odd bear and cougar.
Melanie Willing, the wife of one of Christina's grandsons, says as higher-density housing becomes the norm across Langford, the demand for community gardens will only increase. A decade ago, the land next door was a chicken farm, now it's a growing residential neighbourhood.
"The numbers (of people) are here now. There's lots of homes with little or no yard," Melanie says. "Langford's focus is big box shopping and all the amenities, which is great. Still there is room for heritage agriculture and farming."
"We need people interested in it and not to leave it. It is a valuable piece of land as far as agriculture goes. It's very good soil," the elder Willing says. "If you look at the community now, houses lack any type of garden. And people are becoming more interested where their food comes from."
Langford Coun. Lanny Seaton, chair of the parks and recreation committee, admits that indeed, the City doesn't have any plans for the greenspace.
At one point part of the park was eyed as a place to run dogs, and rough measurements were made to see if ball diamonds would fit, but nothing is on the table.
"We've been so busy with the Sportsplex and the new fields, that's really taken a lot of energy and resources," Seaton says. "If we were to do something (with Willing Park), we'd get together with the community."
The fenced-off garden has no running water or power to run a well, he noted, making a potential community garden more difficult to maintain.
"I could see a community group running (a garden)," Seaton said. "Our vision is to keep it open and wild. But it's good property, and we're holding onto it, but we have no real plans for it."
Ideally, the Willings would like to see it left wild too, although with a few maintained walking trails and places to have a picnic. Access is better too, they say, since the completion of Frederic Road off Willing Drive. People can also access the park off Wild Ridge Way.
"I want it developed into a park while I'm still here," the elder Willing said. "People need a place to go where there is peace and quiet, especially these days. I'd love to leave some places around so my grandchildren and great-grandchildren can enjoy the outdoors."
Holding her young daughters' hands, Melanie agrees, and hopes people will step forward to help re-establish the community garden.
"The neighbours have no idea it's here. It's so hidden away," Melanie says. "I hope people in the community become aware of this hidden little secret."
Anyone interested in a community garden at Willing park can email Melanie Willing at mkwilling@hotmail.ca.
Tags: agriculture | food security | parks | urban